New Focus: 13 months of Solar Power in Ethiopia 2016-2018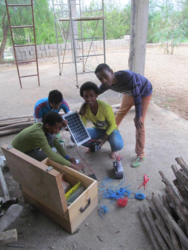 The provision of affordable and renewable energy ranks high on the global agenda. Goal 7 of the Sustainable Development Goals state: "By 2030 expand infrastructure and upgrade technology for supplying modern and sustainable energy services for all in developing countries..."

Jugend Eine Welt and the Salesians of Don Bosco in Ethiopia take up the challenge and want to make a significant contribution by establishing training courses for solar-technicians in vocational training centers in Addis Ababa, Adwa, Dilla and Gambella.

New technical equipment and solar systems will be installed, teachers will be trained, curricula for certified training course for solar technicians will be developed and training courses offered. Events and trainings for government officials, teachers, students and the communities around the colleges will disseminate knowledge about renewable energy, energy efficiency and environmental protection.

Jugend Eine Welt together with the Salesians of Don Bosco in Ethiopia will establish a structured exchange on renewable energy and energy efficiency amongst stakeholders in Ethiopia, Eastern Africa and Austria and inform about the progress of the programme on this webpage.