Use of pedal pumps for irrigation in the Moatize project
The pedestal pumps are an important innovation in the irrigation schemes supported by Salesians of Moatize (Velik 2011)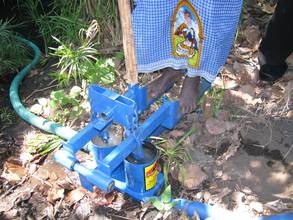 Before the program was implemented irrigation was provided with the help of buckets. As solution the project in Moatize tested various types of pedal pumps that easily can be operated by one person. These pumps were bought on a credit scheme by horticulture cooperatives that have access to a river or a lake. The cost for a complete pedal pump including pipes is about 150 US$. The cooperatives are able to pay this amount back in less than six months.
A member of the cooperative in Mameme at work (Tump 2012)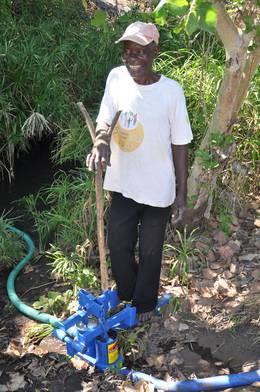 One pedal pump can easily irrigate a quarter of a hectare, a good internal organization of the cooperative provided. The cooperatives supported by the Moatize project have between 16 and 30 members. For more than 30 members it is recommended to purchase a second pedal pump.
The project has tested so far three different types of pedal pumps. The one shown on the picture has proven the best choice for horticulture production. It is easy to pump for one person (other types need really strong persons or two persons) and also easily to maintain.