From Nepal:
Sister Smitha says: "Having worked in this area for the past 5 years I am convinced that integrated development of a community is possible. I am also convinced of the fact that the poor are rich in many ways and are sincere. Their wealth as one of them said is their two "HANDS". Having worked with the poor I have learned that I need to to TRUST them to be in partners in collaborating with them to raise their standard of living.
Having opted to be a professional social worker it is my joy especially to be with women to raise their self confidence. Side by side both experience the CHANGE. As to my perspective given an opportunity ALL do well. I can see the impact that this project has made for the past seven years. Lots of change is very much visible in their changed behaviour."
From Mozambique …
Often, in many non-agricultural activities, it is the man who holds the important roles, who runs the business of decision taking and management. This shows that women still encounter great difficulties on their way to gender equality. Often they are hindered by their traditional roles in society, which often are those of mother and wife that leave them with the keeping of the household, the children. This way it is difficult for women to leave the house to participate in our seminars or other activities.
Today women participate actively in public meetings (Velik 2011)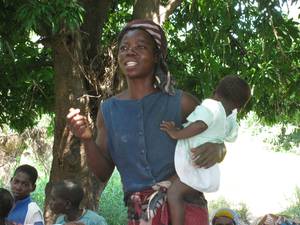 To value and promote the involvement of women, in such a way that enables them to actively contribute to the development of their communities, is therefore one of the program's proposals. During its course, the program stimulated the involvement of women in the taking of decisions and their implementation. This was achieved by raising awareness for the issue, as well as by raising the participants self esteem, the lack of which often blocked their involvement. Meetings have been held, which served to demonstrate the possibility and importance of women participation in local development.