Nepal: Sonodhi Hansda, president of the cooperative
Sonodhi Hansda, 31 years, Sirsia (Traud-Dubois 2011)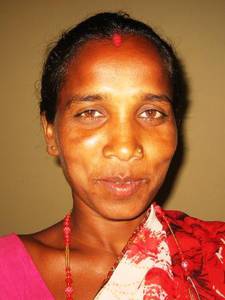 I'm Sonodhi Hansda and I stay in Majare ward No 7. I'm 31 years old and married. As it was the custom I was send to school only at the age of 7. At the age of 11 I lost my father. Though it was difficult, my mother and brother continued to send me to school. While I was in class 10 I fell in love with a neighboring boy Mr. Shankar Murnu. Before I could complete class 10 I became a mother. In spite of that, the following year I gave the class 10 exam. Unfortunately, I failed. After 2 years Father John Prakash came to my house and asked me if I could go for a pre-primary teachers training. That was for 13 days. The desire in me grew more and more to be involved in education, gain knowledge and share the knowledge with the little ones. So I enjoyed being a teacher with the Don Bosco team. Being a balwadi teacher I was happy to move around in my and the neighboring villages organizing women and starting self help or saving groups. My companion teachers encourage me to continue my education so after a gap of 7 years I wrote my class 10 exams again and passed with 2nd grade.
Suddenly I realized that I didn't know anything. I was a mother with responsibility for three children. The involvement with the DB agency gave me confidence and an opportunity to bring out the child in me and the hidden potentialities buried within me. I remember well the day when Mr. Hannes came to our village and asked us what we want to develop ourselves and our society. He told us to organize ourselves and think together, plan together and state what we want. We, the villagers said that we need a school close by, as the existing government school is far away. That's how all the DB programs came to our area.
A big change
In the beginning, though I was eager to teach, it was very difficult to convince the parents, especially the grant parents to send the children to pre-primary school. Grant parents are usually enjoying to look after their grant children so they felt alone without the children. It helped me that in all meetings of SHG the importance of sending the children early to school was stressed and I myself suffered from not being send early enough to school.
However, two balwadi teachers along with 2 BHW had to visit to the village every day to convince the parents to come for the meetings, to send their children to school, vaccinate their animals etc.
After the sudden murder of Father John Prakash who was the main runner of the project we were shocked and felt sad that we could not give protection to him who came to serve us. The shock remained for weeks and months. The DB programs were shut for 3 months. Then Fathers Jacob and Sister Smitha organized us and asked us our opinion regarding the continuation of the programs. We unanimously agreed to cooperate and give our best for the running of the programs. Mr. Hannes, too, had come after a year and asked us if we want to collaborate DB programs. There was a unique awakening after the loss of Father John Prakash who was enlightening us day and night on better living. So the response of the villagers was very positive to support wholeheartedly the Fathers and Sisters and the programs. Which is solely meant for our development. Hannes said if you take it in your hands I'm ready to help.
So earlier when Hannes came I was only one of the villagers. Now I'm a president of the cooperative.
Saving and Credit Cooperative
I went around with Hannes to the 5 wards. It was great joy for me. With the approval of the villages we formed ourselves into a saving and credit coop. The members choose me as their president. In the beginning I was very frightened but now, one and a half years have passed. I was exposed to do all the government offices along with Sister Smitha, met or interacted with so many offices gave me confidence. I also faced a lot of challenges as a president of the coop. However I feel the strength within me and the spirit of Father John Prakash who so much wished to develop our place. Now I understand all that Father spoke in the beginning. In all my conversation I share the insights that I gain from so many trainings as being president. When Father and Sister told us the importance of education we were frightened that they would make us Christians. But now when I share people believe me.
In spite of the political insurgency Father Prakash used to travel on the motorbike and jeep to attend the meetings. When we told him don't travel he said "I'm ready to give my live. I have no children/generation behind. You are my children/ generation." He showed us the way. Sister Smitha continued to lead us and gave us an opportunity to visit so many places, meet people who are educated and developed. That gave us an idea and a desire to have a dignified live ourselves.
Like Father JP gave his live I'm ready to give my live for the cooperative. I feel the support of the executive body. As the seed of development is sprouted and growing as it is natural I too feel the heart storm of opposition from my own villagers who are rich and high caste. The more they challenge me the more I feel the strength to fight for the truth. The main source behind me is also my husband who always encourages me to go ahead. One day he surprised me when I came after a long meeting, the meals were ready for me. He always tells me "I am with you. You have to help more people and you have to bring up this coop. When I'm with you, why are you frightened?" His constant support helps me to give myself fully to the responsibilities of the president. So also is my third child Kamal Murmu who never used to leave me, now I feel the spirit of Father JP has come that when I need to go for training even for a week, he smilingly sends me off. The villagers and Sisters tell me that I have to become Father JP to fulfill the unfulfilled dream of him.