Capacity building in the communities of Moatize
First workshop on horticulture (Tump 2011)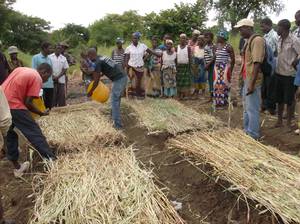 The Integrated Plan for Poverty Alleviation, which is in process in Moatize, Tete, found deficits in the practice of cultivation and consumption of vegetables. Furthermore, a high degree of illiteracy was registered in the target group, which inherently leads to problems with the agricultural production and productivity, as well as with the herding and breeding of animals. During the implementation phase of the program, in order to improve this situation, the priority lies on the capacity building in the following areas:
Enhanced techniques of agricultural production, with a special regard for horticulture
Group dynamics for the management of the extension workers
Conservation and commercialization of agriculture
Management of the animal breeding program
Training of Para-Veterinarians to secure local competence
Assistance in animal treatment to secure the agricultural and transport services
The technical group of the program, 5 extension workers, work to realize the capacity building on the fields and in the schools. From there the participants take the learned techniques and implement them on their own fields or parcels. In the beginning of each campaign general capacity training is held by the supervisor of the network of the extension program. This is also where beneficiaries of various communities meet and share their experience.
Capacity building in Inhangoma Training Centre (Rato 2011)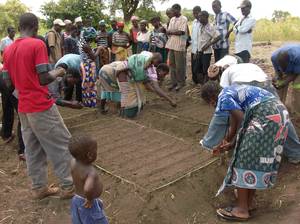 Other topics are dealt with in collaboration with different institutions. Especially with the Direcção Provincial de Agricultura (Ministry of Agriculture), which dispatched specialists for this. Capacity building leads to a higher rate of production and productivity, thus creating the need for a market.
In relation to the target group all workshops focus on actual work, practical examples, to demonstrate and experience all that has been talked about in theory. Likewise another focus rests on gender equality, as is the case with all activities of the program.
Capacity development in Nepal
As most of the members of SHGs are landless laborers the groups took land on lease and they experimented the scientific method of farming. More focus was also given on home garden to plant necessary vegetables near their homes. During all the activities the importance of education was stressed through adult education, formal Nepali medium school, sending their children to pre-primary school and baby care centre.
Capacity building for women
Traditionally the women look after the livestock of the family. In separate workshops women were trained in producing salt cake for the cattle and goats. "Nun ka tikka" as it is called in Nepali is an important food additive to enrich the frugal diet of livestock.