Vocational Training at the "Escola Profissional Dom Bosco – Matundo"
Profesional training is crucial for young women searching for jobs (Rato 2012)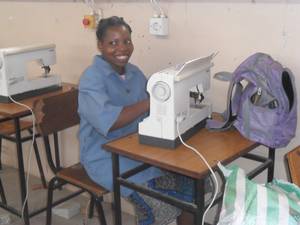 The school was constructed in the year 2000 and has been inaugurated in 2001. The school is run by the Salesian order, with three Salesians of Dom Bosco in charge. There is one director, one pastor and an economist. Since this is a Salesian project, it also focuses on youth animation and capacity development. This is realized by the collective effort of a group of people (a director of pedagogic assistance, an administrator, 40 teachers and 15 employees). The school serves 399 students.

The Objectives

The objectives of the vocational school aim at:
• Contributing to the development of Mozambique, by forming professional technicians
• Participating in the vocational training reform, initiated by the MEC, which is to bring forth competent technicians for the industry and self-employment
• We also want to be a centre that works to evangelise young people, as well as a centre for the formation of morals and values


Well trained builders are looking for a bright future regarding the construction boom in Moatize and Tete (Rato 2012)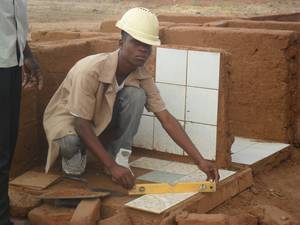 The vocational school Dom Bosco works in six areas
1. Construction of civil infrastructure
2. Locksmithing and Mechanics
3. Carpentry
4. Fashion Design
5. Informatics
6. Car mechanics

The use of educational techniques for raising the students abilities


We work with the modular system and introduce the module zero in the disciplines of maths and Portuguese
We have a course on informatics, to help the students deal with new technology
A lesson plan is drawn by the teachers, so as to meet the national objectives and standards
Teacher assistance during class
Income generation, in coordination with the RNES, to enable university education for the teachers and thereby enhance educational capacities
Organisation of workshops in pedagogics for the teachers of general subjects
Reading suggestions and research training for the teachers
We encourage all teachers and educators to visit a evening school to finish the 12th class

As we are Salesians we can not educate without evangelising. At the school we have moments explicitly directed towards the holy scripture. For example at religious exercises, at collective meetings and speeches.
Young students being trained at the metal workshop of Matunde Professional School (Rato 2012)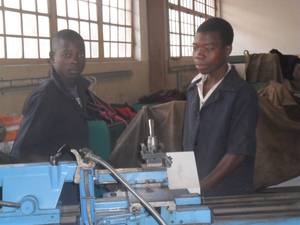 Difficulties

Like many other institutions in Mozambique the EPDB has its difficulties:
Deficits in well trained personnel
Lacking quality in basic education (with students having to work for their survival at the age of 10)
Small numbers of female students (who are still caught up in traditions)
The project is not financially sustainable, especially since there is no permanent funding
It is not always possible to successfully integrate all alumni into the labour market
The HIV virus affects many young people and - besides of new and effective medicine - often wins.

Successes
Internships: The students have a guaranteed work placement at the school and in businesses
School production: We teach working habits, with our work we make up for more than 50% of the schooling costsCollaboration of the school with businesses: We successfully placed some of our graduates into major businesses of Tete.
Cooperation with other institutions: DPE, the defence, a tobacco factory, Miniarte, Toyota and other small businesses
Partnerships: Negotiations with Rio Doce (a business) are under way
Creation of collaborations: At the moment, former students of our school are producing furniture for DPE as a form of internship, which can lead to collaborations.
Communities benefit from an agricultural schooling centre
Participants of a workshop in front of the Training Centre (Rato 2011)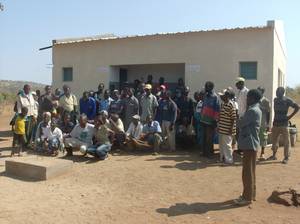 As a form to facilitate the access to basic technologies of agricultural production, the program introduced the idea of a schooling centre. This is a place where basic infrastructure is accessible, namely: a warehouse, a room for meetings and the participant's accommodation, an animal treatment and sanitary facilities. Here a diversity of trainings are realized during the course of the program.
The schooling centre has an area of about 3 ha and is located in one of the involved communities, which is centrally located in relation to the others so that it is easy to reach for all participants. Until now trainings on the treatment of animals for the communities of Inhangoma, Mameme, Madamba, Mawira/Bagamoyo and Mussakama have been held at the centre. Further trainings dealt with the production of horticulture, animal restocking, veterinary treatment and the quarantine of animals to be acquired for restocking.
The community of Mameme, in which the centre is located, uses the infrastructure to treat its animals, when the centre is not in use. In the future the centre could serve as a place where where agricultural products can be sold as well as technical counselling be held. The para-veterinarians, promoters and the contact farmers would be the managers of the centre.