Moatize: Communities benefit from Agricultural Training Centre
Participants of a workshop in front of the Training Centre (Rato 2011)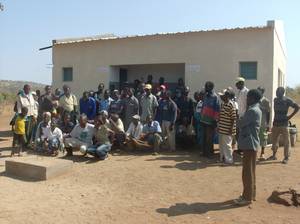 As a form to facilitate the access to basic technologies of agricultural production, the program introduced the idea of a schooling centre. This is a place where basic infrastructure is accessible, namely: a warehouse, a room for meetings and the participant's accommodation, an animal treatment and sanitary facilities. Here a diversity of trainings are realized during the course of the program.

The schooling centre has an area of about 3 ha and is located in one of the involved communities, which is centrally located in relation to the others so that it is easy to reach for all participants. Until now trainings on the treatment of animals for the communities of Inhangoma, Mameme, Madamba, Mawira/Bagamoyo and Mussakama have been held at the centre. Further trainings dealt with the production of horticulture, animal restocking, veterinary treatment and the quarantine of animals to be acquired for restocking.

The community of Mameme, in which the centre is located, uses the infrastructure to treat its animals, when the centre is not in use. In the future the centre could serve as a place where where agricultural products can be sold as well as technical counselling be held. The para-veterinarians, promoters and the contact farmers would be the managers of the centre.